PUBG BANNED IN INDIA | KNOW THE TRUTH OF THIS MESSAGE(FEBRUARY 2019)
PUBG MOBILE BANNED IN INDIA
PUBG
(PlayerUnknown's Battlegrounds) is a popular game played on mobile worldwide. It is also very crazy in India too.
PUBG
was released in March 2017. This game was created by being inspired by a Japanese thriller 'Battle Royale' in which the government sends a group of students to fight with the fetal death. About 100 players in
PUBG
jump from a parachute on an island, search for weapons and keep on killing each other until only one of them is left out. Now news is getting viral, according to which the ban order issued to the PB in India has been issued by the court.
In the first post, it is being claimed that the Gujarat Police has issued a warning that strict action will be taken if we are able to play the mobile game
PUBG
. Another viral post claims that "Maharashtra High Court" has banned the game. First, talk about this alleged notice of the Maharashtra High Court. Firstly, the name of the court puts it in doubt because there is no such thing as the Maharashtra High Court. The High Court in Maharashtra is Bombay High Court.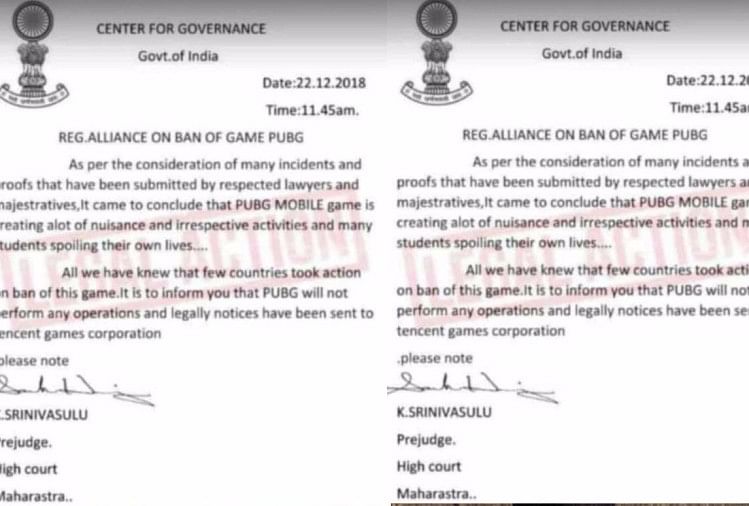 The post says, "You are informed that
PUBG
will not do any operations and legal notice has been sent to Tencent Games Corporation." This post written in English has many impurities in grammar and spelling. As in "magistrates", it has been written "majestratives".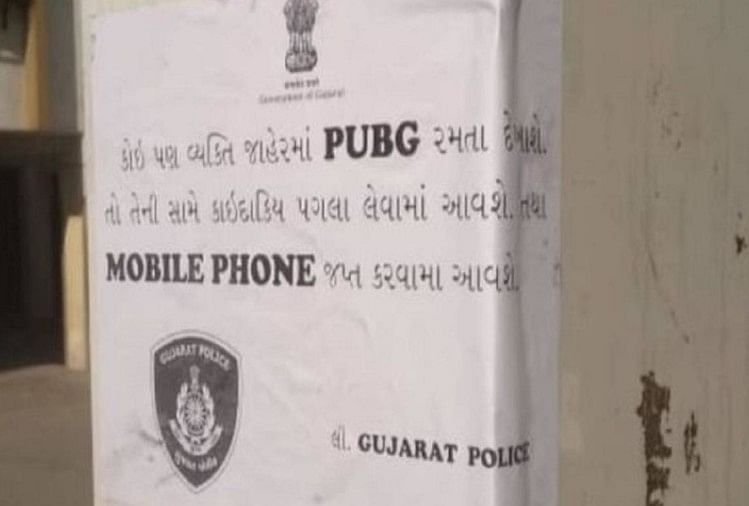 The note has been issued in the name of a "prejudge", whereas there is no post in this name in India. There is no evidence that a person of that name has been issued a notice in the name of Srinivasulu, who has no proof of working in the judicial service of Maharashtra and now the Gujarat Police's alleged notice which is in the Gujarati language.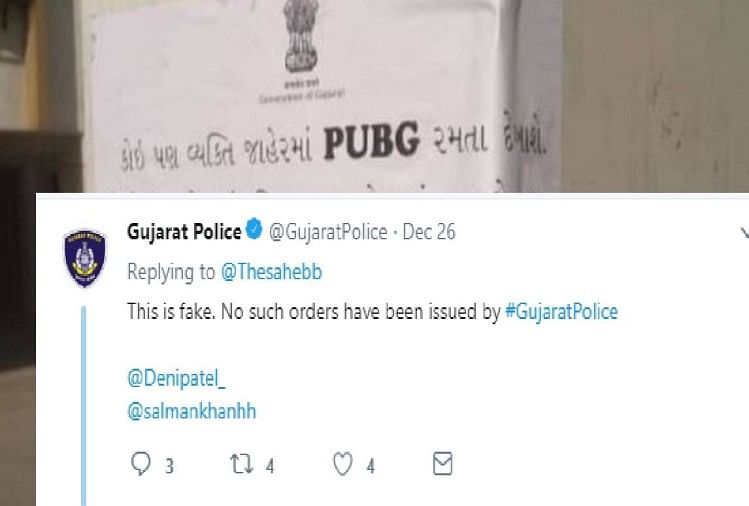 There is doubt about the fact that this poster is also true. It has neither written the date nor the name of the issuer of it. There are also many impurities in it. Such fake posts are also being shared on Twitter. When a user named Bhagirath Singh tweeted the Gujarat Police to know its authenticity, he got the reply immediately, in which it was written - "It is a fake. #GujaratPolice did not issue any such order".
ALSO READ
>
Honor 10 lite best review
Tencent games
The Tencent Games has not yet released any statement about these claims on banned. This game is quite popular, but there has been controversy over it. In July of this year, it was shown to the sun rising on a pilot's mask, which was available in its store. Many Chinese and Korean people objected to it because the Mask colonists used the Japanese army. After this news, the game developers had to remove it from their store and the players who bought it had to return the money.
The government has started paying attention to digital India for the past few days. Just a few days back, the government has ordered 10 agencies to keep an eye on private computers in view of security, while the Ministry of Health has released a list of 64 applications and websites through which misleading reports about people of Ayushman Bharat Jan Swasthya Yojana It is being spread and people are being cheated. Let's know about these websites and apps.
ALSO READ
>
BEST METHODS TO INCREASE BATTERY LIFE OF SMARTPHONE.
So if these articles seem to work, do not eat alone like peanuts, share it with friends like Cadbury.
thank you
PUBG BANNED IN INDIA | PUBG | PUBG MOBILE | PUBG PC
|